Author: JoAnn McCraw
of Luv'n Chins



Most Of The Things You Need To Get ...
Before You Get Your Chinchilla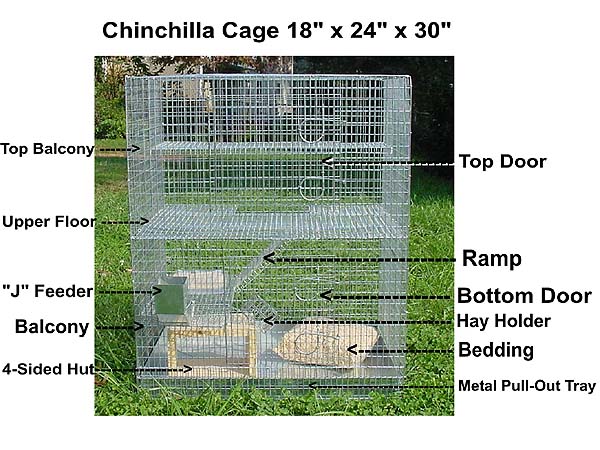 When you purchase the supplies for your chin, remember he/she will probably be with you for many years, buy the best you can afford. Their life span is on the average of 12 to 15 years, some have been known to live as long as 20+ years. Your out-lay in the beginning and your chin will be the most expensive parts. On a monthly basis, the average cost is minimal ... about $10 a month or less.

The CAGE, should be at least 18" x 24" x 36" and two or three levels high, made of 1/2" x 1" wire or smaller. I have seen a 7 week-old, 200 gram kit get through 1" x 1" wire. If they can get their nose through up to their eyes, they can get out. Some owners prefer wire, some wood and some a combination of wire and wood. This will have to be your own choice. Personally, I prefer both, with a pull out tray underneath for easy cleaning and for the safety of the chins.
Keep in mind your chin will need a good air circulation, but, not from a fan, a vent, or a window draft, but the air must be able to move naturally from the inside of the cage to the outside and visa versa.
No aquariums please! Aquariums allow a heat build-up, especially if it is situated in an area where the sunlight will shine on it at any time during the day. Aquariums tend to stagnate the air and keep urine fumes at the bottom where the chins have to continually breath them. (not good) Urine and heat build-up also promote bacteria growth.

The HUT is best made of solid, untreated pinewood. Huts do not have to be fancy, the chins will "re-decorate" them to suite themselves in no time at all. They need to be at least 9" by 9" + in size, with openings on one or more sides. Plan on sanding them a little, about every two or three weeks to soften any rough edges where the chins have chewed it.
Also, if the hut is put together with nails or screws, watch out for areas where your chin will chew the wood around the nail or screw and expose them. Move and/or remove the nail or screw to a different location. I have found that screws are easier to move/remove than nails.
NO PLASTICS, please, this can be fatal to your chin. They will chew on most anything and the pieces of plastic they ingest will remain sharp and hard as it attempts to move through the digestive system. Plastic can kill.

SHELVES can be made of solid pine wood or wire. Wire should be 1/4" to 1/2" square to keep from trapping a leg or foot and breaking it. Wood is porous and will have to be cleaned periodically and/or replaced on occasions. Again, no plastic, please!
Do not use pressed wood or plywood, these often contain glues that are toxic to chinchillas. Surfaces used for counter tops (laminates) will not do, unless you plan to cover the exposed edges with metal. The laminated surface is one that can be chewed/broken off, but not digested.

The BEDDING is best made of pine/aspen shavings that have been heat-dried or come from seasoned wood or recycled paper. Do NOT use cedar or other woods, many of them are deadly to chins. DO NOT use wood or wood shavings that have come from pressure treated wood that is found in most building material supply stores. Make sure the wood you use is untreated pine.
Caution: Many wood beddings made for small pets contains cedar. Make sure the one you purchase does not contain cedar. Cedar is often used to control odor and insects ... neither of which is a problem with chinchillas. Chins do not have insects (such as fleas) due to their beautiful thick fur. Changing the bedding once a week will control the odor of urine ... they should have no other odors, unless they are sick.

The CERAMIC FOOD BOWL is good because it is usually the heaviest, with straight sides to prevent tipping. But, caution, if your chin is strong enough to turn the bowl over to let you know it is empty, it can accidentally trap a kit under the bowl also. Chins tend to stand on the side of the bowl when eating (kits usually stand in the bowl and 'hog it all' while eating).
A METAL food bowl that sets in a holder, or a "J" FEEDER that is attached to the side of the cage are the best options. Again, no plastics! A separate container/feeder should be used for supplements and treats other than the one you use for their food.

The WATER BOTTLE should be made of glass, unless you like to clean up water puddles and replace bottles frequently. Chinchillas are notorious for chewing a hole in a plastic bottle, even when it is mounted on the outside of the cage.
The bottles should be sterilized at least once a week and washed in hot soapy water at least twice a week. Fresh water daily is a MUST, even if you use bottled water. Do not just add water ... empty, rinse and refill the bottle with fresh water every day. Water left standing for more than 24 hours promotes the growth of parasites and bacteria. Humans and other animals can withstand a much larger number of bacteria and parasites than a chinchilla's system can. DO NOT place water in a bowl for your chins, especially if it is a baby chinchilla. Kits can drown in a bowl of water and adults can accidentally fall in it and get wet. A wet chin will chill and will often become a dead chin. Protect your little one!

Their FOOD should be made for chinchillas only, if at all possible, in my opinion. I feed my cat, cat food, my dogs dog food, I also feed my chins chinchilla food, made especially for them and their delicate systems. There are many brands of chinchilla pellets available. What you can get in your area may restrict your choices somewhat. I use Mazuri Chinchilla Pellets for my chins, especially since they have removed the corn from the chinchilla diet recipe, but it is not easily obtained in some areas. (Of course, you can order over the internet ... a bit more expensive, but usually worth it.)
Chins can live on hay alone, better than a new food, for a period of time if their regular pellet supply is temporarily cut off. If you have to feed them rabbit pellets,made for show rabbits, or any other type of pellets, check the ingredients carefully to make sure it does not contain growth hormones, corn or anything else that may harm your chin.
Always check the bag/box/container to see if there is an excessive amount of sediment at the bottom. If there is, it may mean the food is old, or that it has not been stored properly and has lost most of its' nutritional value that a chin needs.
Food should be stored in a cool dry place, under 70 degrees. I stored mine in air-tight containers in the refrigerator when I had only a few chins. Now, that we have over 200, their food is stored in air-tight containers in the basement.

The HAY can be Timothy hay, meadow hay or alfalfa hay. I prefer the loose bale Timothy hay for most of my chins and alfalfa for the kits and breeding/nursing females. The type you can find in your area may be the deciding factor as to which you feed them.
Hay comes in two different forms, loose bales or compressed cubes. For travel or neatness cubes are great.
Always check the hay for mold, mildew and/or a musty smell. If it has any of these, dispose of the supply in that container,check all the other containers, notify your provider and get fresh hay. Hay should be given to your chin fresh and on a daily basis, for roughage in their diet, nutrients and to help control of the growth of the molars and pre molar teeth to prevent the teeth from growing into the jaws of the chin.
Remove all hay from the day before, the chin may have urinated on it and this will give bacteria/fungus a place to thrive.

Some CHINCHILLA DUST BATH DUSTS can be purchased in most pet stores. Blue Cloud dust bath dust is among the best, if not the best, but usually has to be special ordered.
Always make sure you get dust bath DUST, not SAND. Sand baths are recommended for most small animals, but a chinchilla's fur is to fine for sand, and will be damaged by the sand. They need the volcanic ash or dust made especially for them.
A thin layer of chinchilla dust should be placed in the dish/container. The chin will do the rest! (Which includes a dust cloud, so be prepared!) It may be best to do this in a room without carpeting.
When should the dust be replaced with fresh clean dust? The dust, if soiled with urine, needs to be disposed of and the container cleaned before being refilled with a fresh dust bath dust. Also, if the dust has changed to a darker shade than it was when you put it in the container, or becomes grainy looking, this means it has absorbed all the lanolin from the chin's fur it can, and it needs to be disposed of, and fresh dust put into the container.

SUPPLEMENTS can be vitamin supplements, calcium, nutrients and/or hairball medication. The vitamin supplements can be from a host of things, from special ones developed by breeders and researchers (such as Alice Kline), from your vet, and even those found in their own treats. I like and use the Kline Supplement.
Calcium supplements are found in calf manna and cuttle bones among other places. Calcium is needed for all chins to form healthy bones and teeth. Nursing and pregnant chins especially need extra calcium. A healthy chin's teeth should be yellow to orange in color. If a chin's teeth are white, it does not have enough calcium.
Hairball medication should be purchased from your vet, if needed. Chinchillas do get hair balls and they can block the digestive tract. (big trouble)
Vitamin C tablets, with no added sugar, is a very good supliment for you and your chin.
If you use a liquid supplements or vitamins that are added to your chin's water ... keep in mind a chin has to drink all of the water to get the full dose of the medication/supplement. You might consider using only a small amount of water in the water bottle until all is consumed, then add fresh water to the bottle.

A PUMICE/LAVA STONE is used to help keep your chins' teeth (incisors or front teeth) down to the size they need to be. This must be kept in his/her cage at all times. He/she will keep it's teeth gently ground down to the proper size by using the pumice stone. This is necessary, if the teeth are allowed to grow without controlling the growth, it can become painful and even deadly to your chin.

An EXERCISE WHEEL should be one that is mounted to the side of the cage or a wall, with no side-bars to catch or trap your chin's leg, foot or neck and break one of them. An exercise wheel is not a necessity at first, especially if you get him out to play every day, but can provide him/her with exercise and fun when you are asleep or not home.
It needs to be at least 15" in diameter to allow your chin's spine to grow properly. I have found the "flying saucer" wheel invented and developed by Dr. Marty Hull of Meadowbrook Chinchillas at: http://www.chin-chillas.com/ to be the best and I feel the safest for my chins.

An EXERCISE BALL is made of plastic and should be no smaller than 15" in diameter (JUMBO SIZE), anything smaller will adversely affect the curvature of it's spine as your chin grows. These balls are especially useful when you do not have the time to turn your chin loose to play and have the one-on-one time (but should still be supervised).
The ball needs to be washed each time the chin plays in it to remove any urine or feces the chin may have left in it.
Never allow the ball to come to rest on a heating vent, this can cause your chin to have a heat stroke and die.
He/she can run around inside the ball and follow you around the house or just do exploring on their own and still be fairly safe. But, be sure there are no open doors for him to go flying down the steps! And DO NOT leave him in the ball for more than 15 to 20 minutes (he can become over heated). Check on him often. You will be surprised at how quickly he learns to maneuver the ball.
Never take your chin outside in the ball ... the sun will intensify the heat build-up inside the ball. The balls have also been known to break open releasing your chin to freedom and danger!

TREATS are a chin's specialty. Most chins love raisins, cranraisins (dried cranberries), dried banana chips, papaya, rose hips and/or fresh, thoroughly cleaned, fruit and/or vegetables.
Any fruit or vegetable given should not be the type that is grown with a pit in it (such as peaches), these are poisonous to chinchillas. Acid fruits (lemons, grapefruit, tomatoes, ect) are not acceptable, a chin's system is not made to handle high acidity. Watery fruits and veggies (watermelon and celery) are known to give chins diarrhea.
Treats should be given in very small portions (a raisin to a chin is like the size of a basketball to us). Only one or two small pieces per day should be given ... one of one, not one of each, per chin, please.

A SIGN that says "Enter With Permission Only ... Chinchilla Country". Make sure your chin has had enough time to get use to it's new home and new family, before introducing it to your friends. Make sure you instruct your friends as to how to properly hold/handle your new family member before they get to meet it. Rules are to be posted so there is no misunderstanding:
1. No squeezing or squealing.
2. No chasing or grabbing.
3. No loud noises or loud music.
4. No hitting.
5. Faces and hands must be washed to remove any food smells before entering, or the chin will think they are a treat and may take a bite.
6. Support it's hind legs at all times to make it feel safe and not think it is falling.
7. Nothing is to be fed to the chin without approval of the parent/owner of the chin.
8. No holding or hugging tightly, chin's ribs are smaller than toothpicks and will break easily, killing the chin.
9. Be kind and loving and receive the same in return.
10. Any rule broken is grounds for a guest leaving immediately!
Does this seem a bit 'strange' to you? Not if you value the life of your chin.

Things you DO NOT get your chinchilla are: any kind of nuts ... ever ... a chinchilla's digestive system is not made to properly digest nuts. Nuts will cause a fatty liver in chinchillas, which will usually eventually kill a chin.
Meat or meat by products are not acceptable, chinchillas are vegetarians! A chin's system can not digest meat, it will cause a blockage and kill your chin.
Rawhide chew toys are made for dogs, not for chinchillas ... they will swell and block the intestines.
Rubber balls and yarn are made for cats to play with, not for chinchillas.
Toys held together with aluminum ... aluminum is a soft metal ... a chin can chew through a 1/4" aluminum rod in no time. Metal does not dissolve or soften inside a chinchilla either.
Chins love to chew wood, plastic, metal, wires, and most anything else it can get it's sharp little teeth into ... even if it is not made for, or is not safe for chinchillas.
So, love and take care of your little buddy, he/she loves you!